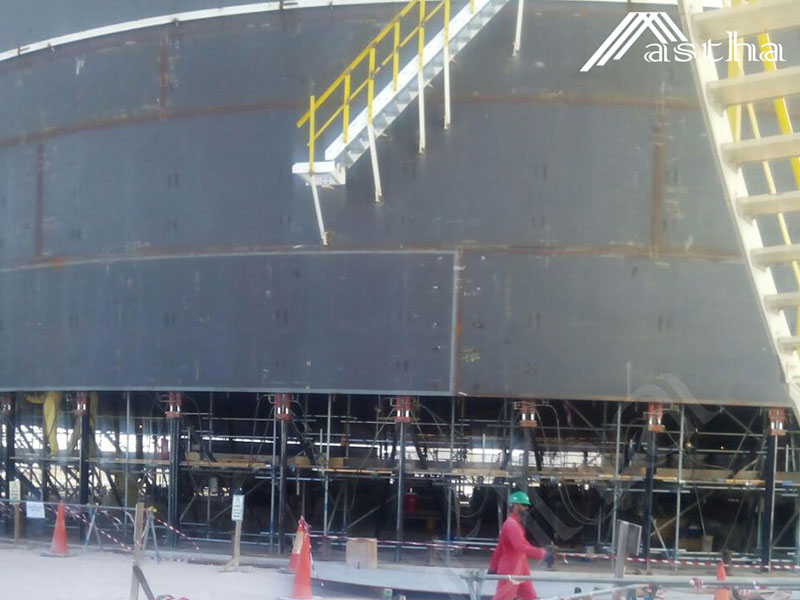 EASIER INSPECTION
Welding inspectors can now conduct ultrasonic or other non-destructive tests on welds at floor level, facilitating ease of inspection and hence better quality control. No more climbing up to precarious positions for welding inspectors!
LESSER MANPOWER
Work at ground level increases productivity thereby reducing required manpower.
BENEFITS OF USING HYDRAULIC TANK JACKING EQUIPMENT FROM ASTHA
WELDING AT GROUND LEVEL
Since welding is done at ground level and not at heights, better quality is ensured and risk of accidents is "LOW"
SAFETY FIRST
Most work is done at ground level reducing risks of accidents. This is the safest and most preferred method for storage tank construction, discarding the need for a tall boom crane.
NO SCAFFOLDING REQUIRED
The jacking equipment dispenses with elaborate scaffolding requirements required to give access to welding at heights since now all welding is done at ground level.
FASTER ERECTION
New shell plates are to be erected ground level instead of being hauled up to about 30 heights or more saving precious construction period for alignment of plates. The period required lifting of men and material to heights is eliminated. Construction work is practically unaffected by or snow since most work is done under the of the tank itself.
JACKING SYSTEM USED THE WORLD OVER
USA, Latin America, South America, Georgia,Europe, CIS, Africa, Middle–East, Australia, Asia Storage tanks are erected in practically every part of the world using Hydraulic jacking equipment. Along with this the top downwards tank considerably cuts construction period and cost. As most work is done at the ground level permitting faster times along with reducing the risk of accidents. Requires no crane, needs lesser manpower, saves money, period, and effort.